We had a beautiful day today here in Michigan. It was a sunny day with a high temperature of 64 degrees (F) and a nice cool breeze. Not too hot and not too cold.
It's so great to know that Spring is here and Summer is on it's way. There are buds on the trees and I'm starting to see flowers bloom.
And I'm not the only one having some gorgeous weather today. Emily, known as
MLeWallpapers
on
Zazzle
is having a nice time in sunny California.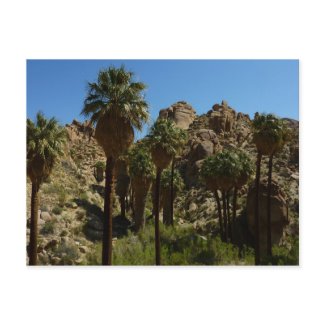 Lost Palms Oasis Postcard
by
mlewallpapers
See this photo on
more products
.
She says, "We hiked the 3.4 mile trail to Lost Palms Oasis today - we're vacationing around Joshua Tree National Park." Emily offers more description on her website,
www.MLeWallpapers.com
, saying, "In Joshua Tree National Park there are several real desert oases, the largest of which is Lost Palms Oasis. It's a moderately long hike to get there, but the reward is the largest collection of California fan palms in the park."
In
Tennessee,
Teresa (
TeeGraphix
) shared some vibrant tulips that she has growing in her garden.
Zazzle
for sharing their photos with me today. I went into the forums and asked them to try to go outside and shoot a photo. I know it is difficult to do something like that on a last minute request. I hope the rest of you enjoyed today as much as I did. :)
Tweet